Please also see this artlce & video for download & re-issuing (if needed) instructions
The video above covers the following points
1) WHMCS Bridge installation
2) WHMCS Bridge Pro Installation
3) Setting up SSL (HTTPS)
4) WHMCS Bridge Helper Installation
5) Caching for speeding up load times.
Please note - WHMCS Pro is an addon for the WHMCS Bridge Plugin, you must have the WHMCS Bridge plugin installed with the Pro plugin installed to unlock the Pro features.
The WHMCS Bridge Plugin can be installed using your WordPress admin and searching for WHMCS Bridge in the plugins directory, or you can download it from 
http://wordpress.org/plugins/whmcs-bridge/
 and upload it via your WordPress admin manually. 
It is advised you use permalinks in your WordPress installation to avoid any issues - see
https://codex.wordpress.org/Using_Permalinks
for more info.
Please note: All cache plugins must be disabled for the Bridge URL and all sub URL's for the Bridge. Download the plugin files:
1) Log in to our client zone located @ https://i-plugins.com/whmcs-bridge/ (Account -> Login)
2) Once logged in, click on the "Downloads" menu and then navigate to "Software" and then "WHMCS Bridge"
3) On the WHMCS Bridge downloads page you will find the WordPress plugin and WHMCS Addon.

4) Download the correct version for your PHP & ionCube encoder.
4.1) WHMCS Addon - Bridge WP for WHMCS Bridge : This is the addon for your WHMCS installation
4.2) WordPress Plugin - WHMCS Bridge Pro: This is the plugin for WordPress to unlock the Pro features of the WHMCS Bridge.

Upload the plugin files:

- bridgewp/ folder goes into your whmcs/modules/addons folder 
- bridgewp/bridgeipfix.php goes into your whmcs/ folder (*)
- Please make sure the "bridgewp" folder and it's sub folders are all at least CHMOD 755 and all files in the folder and sub folders are at least CHMOD 644






- whmcs-bridge-sso/ goes into your wordpress/wp-content/plugins folder - please note you need to first install the whmcs-bridge plugin (via the wordpress plugins search in your WP admin or by downloading it from http://wordpress.org/plugins/whmcs-bridge/)


Activate the plugin through the 'Plugins' menu in WordPress. Once both plugins are activated, navigate to the "Settings" => WHMCS Bridge page to configure your WHMCS Bridge. Read the information for each required setting and complete the settings, once completed, Save your settings.






Log in to your WHMCS admin, go to Setup -> Addon Modules; click on the "Configure" button next to the "WHMCS Bridge Helper" and will in your bridge page URL (created by the plugin in WordPress). 
If you enabled permalinks in the WordPress Admin, enable permalinks in the WHMCS module too.





To make sure your password reset URL's are working correctly as of WHMCS 7.5.1 please refer to this URL to patch your installation.

(*) Edit your WHMCS configuration.php file and add the following line (at the end of the file) to enable the IP Fix for WHMCS Bridge: 

require dirname(__FILE__).'/bridgeipfix.php';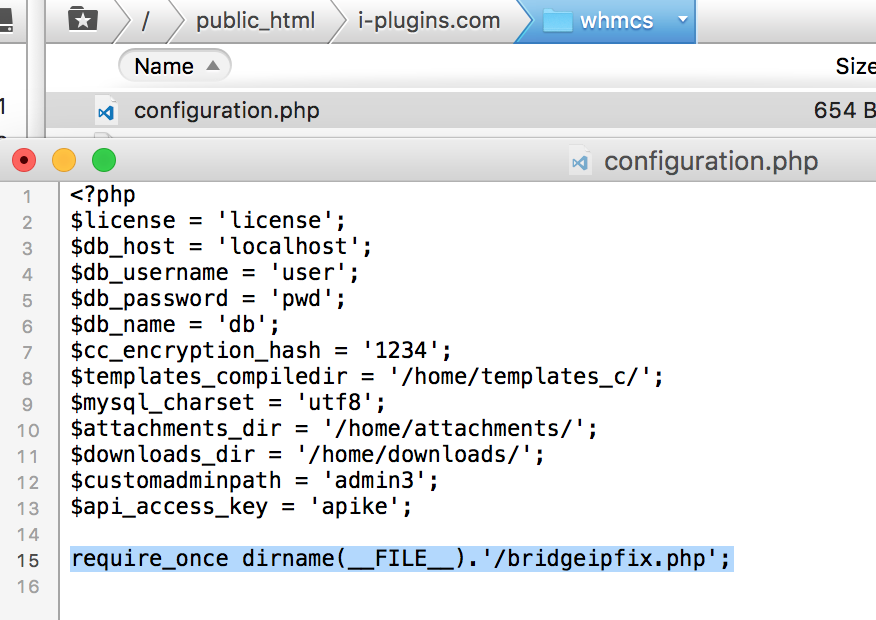 You can now navigate to the "Help" tab in your WHMCS Bridge Settings page in WordPress and test out your new WHMCS Bridge!






More:
- Want to enable SSL? Click here.
- Having problems with your installation? Click here and check through our Knowledgebase Articles.
- Still having problems? Click here.